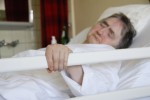 Frankly, I had to read this KTVB story twice because I couldn't believe my eyes. According to Andrea Lutz: "Safe Haven Health Care operates a dozen facilities around Idaho for elderly and disabled seniors. However, the one in Bellevue is operating under the careful watch of the Idaho Department of Health and Welfare after reports last fall revealed that there was an extreme food shortage taking place." Apparently, the Idaho Department of Health and Welfare's investigators received a complaint in September 2014, "that caregivers at the facility were having a hard time feeding the residents because food was not coming in from the site administrator." The caregivers would call the administrator who would bring just enough food to "get through a short amount of time." Family members were interviewed reported seeing loss of weight and inappropriate meals.
Unfortunately, many caregivers fear for their employment and, sometimes, just let things "slide." I say kudos to the caregivers who contacted the Department of Health and Welfare. They should be praised for doing the right thing despite any fear they may have felt. After all, the residents of the facility need people to look after their needs…that's why they are residents in the facility in the first place!
This story also brings back the #1 piece of advice to people who have loved ones in assisted living facilities or nursing homes: Always pay attention to what is going on with the residents! If they appear to have lost weight, take note and ask questions to the staff and notify the proper authorities. What you may find out may be surprising. For example, as in this case, there may be insufficient food to actually feed people.