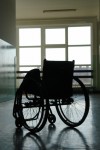 In a recent San Diego Union Tribune article, Deborah Schoch noted California has just raised the fine the state can impose for violations which cause the death of an assisted living facility resident 100-fold. Sounds GREAT…doesn't it? Well, dig a little deeper and you'll find although it is a remarkable increase…the reason is that the fines were so low to begin with. Prior to the enactment of the current law, the most the State of California could fine a facility when it caused the death, thorough abuse or neglect, of a resident was $150.00. Unbelievable! Now, California can fine a facility $15,000.00. While that is a more respectable number…is it really enough?
In Idaho, according to the most recent Idaho Department of Health and Welfare regulations, the fines imposed on assisted living facilities are tied to the number of beds and the length of the alleged violation. Also, if the violation "places the health or safety of its residents in danger," the state has the ability to remove all residents from the facility and appoint temporary management.
At the end of the day, it us up to the families of assisted living facility residents to protect the resident's safety. If a resident dies due to abuse or neglect in an assisted living facility, the family should contact an attorney to be sure just compensation is obtained.