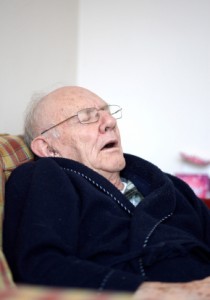 Recently, National Public Radio (NPR) has done a series of stories on the problem of overmedication of nursing home residents and what some facilities are doing right in this area. I thought I'd take the opportunity to share with you these stories, give you the links to the themand the audio of the original stories so you can be educated on this very serious issue. Part 1 of this series of posts deals with a story titled: "Old and Overmedicated: The Real Drug Problems in Nursing Homes," reported by Ina Jaffe and Robert Benincasa.
A brief refresher: According to Bradley Williams, who teaches pharmacy and gerontology at the University of Southern California, "antipsychotics should only be used as a last resort, and just for a month or so, before gradually being eliminated." Professor Williams also told NPR antipsychotics "blunt behaviors. They can cause sedation…[and] increases [the]risk for falls." Commonsense, right?
What I found most shocking about this story was not the fact over 300,000 nursing home residents are still being overmedicated by facilities using drugs which are not supposed to be used to treat Alzheimers. After all, I posted in September 2014 and October 2014 about this issue. What shocked me was the total disregard the physicians who worked for the nursing homes had for their patients' rights.
Jody Moore, a California attorney who specializes in elder law, was interviewed by NPR as well. Ms. Moore brought a class-action lawsuit against a nursing home for using chemically restraining its residents without informed consent. "Informed consent" means the patient or their decision-maker is fully informed of the risks and benefits of a medical procedure, including the prescribing of antipsychotic medications. Indeed, the law requires a nursing home facility to obtain informed consent. According to Ms. Moore: "We learned that the families really weren't told anything other than, 'The doctor has ordered this medication for you; please come sign a form,' " says Moore. "And families did." During the lawsuit, Ms. Moore had the chance to question a physician under oath about informed consent and whether his practice was to get it from the resident or resident's medical decision-maker. The doctor…that's right…the DOCTOR, testified: "not only do I not get informed consent, but I don't know of any doctor who does, and you're crazy to think that that's my job." NOT YOUR JOB??!! I'm sorry to tell you, sir, but it is your job. Of course, the facility settled the lawsuit.
At the end of the day, residents need to protect themselves. If they cannot, loved ones must do so. You must demand nursing home residents are protected and appropriately cared for. If you believe you or a loved one is being chemically restrained, or is being given antipsychotics improperly, inform the facility of your concerns, in writing. Contact the state Ombudsman and the Idaho Department of Health and Welfare. And, finally, if you are so inclined, contact Kormanik Hallam & Sneed LLP for a consultation.