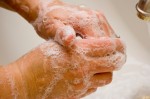 A recent article on MedicineNet.com talks about a study performed by the Columbia School of Nursing shows infection rates at nursing homes are "on the rise,and that trend will continue until better hygiene practices are put in place." The story, by Robert Preidt, contains important and useful information and some "simple" ways to decrease infection rates.
First, the bad news: The researchers analyzed data submitted by nursing homes to the U.S. Centers for Medicare and Medicaid Services between 2006 and 2010. According to the analysis, the data showed "rising rates of pneumonia, urinary tract infections, viral hepatitis, septicemia (blood infection), wound infections and multiple drug-resistant bacterial infections such as methicillin-resistant Staphylococcus aureus (MRSA)."
Now, the "good" news: There are simple steps which, if taken, could easily reduce the chance of infection. One example, cut the use of uniary cathaters and, instead, have residents use the bathroom on a regular basis. Sounds simiple, right? Well, nursing home facilities would need to hire sufficient staff to make this happen.
A second, universally recognized, method of reducing infection rates is even more simple: hand washing! The article quotes  the study's author Carolyn Herzig, of the Columbia University School of Nursing: "When you walk into a nursing home for the first time, you should easily spot hand sanitizer dispensers or hand-washing stations. If you don't see this, it's an indication that infection control and prevention may be lacking at the facility."
At the end of the day, it is up to all of us to prevent infections in nursing home facilities. If you do not see hand sanitizer dispensers or hand-washing stations, say something!