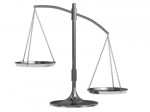 After last week's somewhat lighthearted post about pet owners, it's back to something more important. Something that may effect a majority of nursing home and assisted living residents and their families. That something is forced arbitration of disputes with facilities.
What is "forced arbitration"? Well, oftentimes when a resident enters a nursing home or assisted living facility, they are required to sign contracts, which often contain a clause which says, in essence, you cannot bring a lawsuit against the facility in any court of law. Instead, you have to utilize a private "judge," otherwise known as an arbitrator (sometimes there will be a panel of 3 arbitrators) to hear your case. Even people who are not parties to the agreement, namely, the surviving members of a resident's family, who claim their loved-one's death is because of a nursing home's negligence or neglect, or worse, may be forced to utilize this arbitration procedure.  In theory, this procedure should afford swifter justice at a reduced cost. In practice, the resident's family usually comes out with the short end of the stick. A recent case out of Oklahoma, however, may prove useful in fighting against forced arbitration.
The Oklahoma Supreme Court issued a decision on September 30, 2014, in a case called Boler v. Security Health Care, L.L.C.,  in which it held because the next of kin of Cleo Bolder, a deceased nursing home resident, did not sign a contract with the nursing home in their personal capacities and their claim was not wholly derivative of their loved-one's claim, the arbitration agreement did not apply to the next-of-kin. Now that is a mouthful; let's unpack that a little bit.
(1) The next-of-kin did not sign the nursing home contract in their "personal capacities" means: Sure, Cleo's next-of-kin signed the nursing home contract, but only on behalf of Cleo. They didn't sign it for themselves. The Court held that because this was the case, the contract could not be enforced against the next-of-kin.
(2) The next-of-kin's claim was not "wholly derivative" of Cleo's claim means: Recovery under Oklahoma's wrongful death statute is for the benefit of the surviving spouse and children or next-of-kin. It does not go to the person who died's estate. That makes it not "wholly derivative" in the Oklahoma Supreme Court's view.
In the past, nursing home arbitration agreements seemed like a long, dark tunnel to family members trying to get just compensation for a loved-ones' death. The Boler case gives loved-ones a light at the end of that tunnel.